It's the end of the year again and just like what I did for the end of the 2016, I have accumulated what I think are some of the most ground-breaking products in 2017. No matter if it is the silisponge or the super wet highlighter look, I hope to discuss at least these trends and review some of what I think is the most revolutionary products this year.
If you have noticed the trend this year, it was all about emerging YouTube drama channels, self-made Instagram based online shops, local indie make up brands and … well, a few other very odd makeup trends.
I am not very extra with my makeup, ironically. In my very humble opinion (and I believe I have stressed this enough on my Instagram), that a really beat up face is not my style. I much prefer applying product little by little and to be frank, I don't have much makeup on a daily basis.
However, 2017 was the year I tried on a lot of local products. Most of them are disappointments but there are some that really stood out.
Brand Spotlight : Colourpop
Colourpop, Colourpop, Colourpop. What have you NOT done in 2017? Colourpop, by far, is a makeup brand that has exceeded my expectations. I know I am not a hardcore follower of makeup, I am just an ordinary consumer and part-time reviewer if time allows. But the number of products that Colourpop has rolled out…. I'll give you my thumbs up for that. Sometimes it isn't about the number of products a company launches but the quality has to demonstrate that the company has spent time researching and knowing what their consumers want.
From their super shock shadows, to their cheeks products, highlighters to their latest Colourpop concealers… I've tried and tested almost all of them and… OMG MAJOR LOVE. At a very affordable price point too AND… best of all, they are all made in the U.S. Another point I have to make is that I think their marketing/PR team is really good at what they're doing. Whenever I get emails from them, I don't feel like they are pushy or over the top compared to say, Morphe. I would most likely want my money to go to Colourpop.
---
Here's where the big guns come out.
Foundation
FENTY Pro Filt'r Soft Matte Foundation
No doubt this year is Fenty's year. When the Fenty line dropped, I realized it was just out of the blue and boom! I realized that everyone's in their nearest Sephora grabbing whatever they can get their hands on. The funny thing about impulsive purchases is that… People tend to regret their purchases right after.
But I think it is a different case for Fenty. From what I read/watched/heard, everyone's just plain excited for what's to come in the near future. The said Rihanna's make up line exceeds everyone's expectations after being said to look a lot like KKW. Personally, I've used both and Fenty stole my heart. One in particular is their Pro Filter Soft Matte Foundation. That foundation changed my life. If you recall, I grabbed it when I was in Bangkok and it wore very well in the summer heat. It is a medium coverage foundation that blurs your pores. Easy and simple. No fuss. Best for oily-normal skin. I won't recommend it for dry skin unless you have a really good primer underneath. My top recommendation for foundation this year definitely!
The Ordinary Foundation
For a cheaper alternative, I would recommend the Ordinary Foundation – both serum and coverage foundations. I bought mine at Benscrub for 220k if I'm not wrong, which is pretty steep but still highly affordable. They do what they claim to do and does not make me break out. The Ordinary, being a skincare brand, probably does not have irritating ingredients in their foundations. The Serum foundation is best for short term use, say up to 4 hours, but the Coverage foundation lasts longer. However, I find that they don't stay as nice on the skin compared to the Fenty. But definitely worth a try.
My friends who are fans of the no-makeup-makeup look loves the Serum foundation as it gives a tint but still looks like skin. The Coverage foundation, too, does not look like a mask when it's applied. So go for it.
Jouer Essential High Coverage Creme Foundation
This one's a bonus. I recently have reeeeeally been liking this. This foundation, I would say, is quite weird for me. I sometimes like it, sometimes I don't. It really depends on my skin. For instance, if my skin is too dry, then I won't go for this. The reason because under harsh lighting and a close up mirror, I can see the foundation settling into cracks (dry patches) of my skin and it doesn't look nice at all. But from afar, it still looks incredible.
This foundation looks very beautiful and it will make you look like you have porcelain skin.. from afar. Come close up (or maybe I'm just very iffy with my foundations), and you'll see my flaws. Not that it's a big deal but I won't recommend this on textured skin. It isn't a dead matte. It takes effort to blend, I prefer the original beauty blender with this. I know I can use a brush with this but I don't know if I want to because I will just be dragging onto my dry patches, perhaps one day I'll give it a try. BUT SO RECOMMENDED BECAUSE…. I love my skin after a few hours and I don't need a hell lot of it and it feels so light on my skin.
LOVE!
Concealer
Hands down this goes to the Colourpop No Filter Concealer (I just realized that this year's keyword in makeup product has got to be FILTER!).
Need I say more? I think I've raved about it enough. The whole product is just perfect. At $6, you get a tube of high coverage, easily blendable concealer that feels light and does not smudge. Of course, you have to set it with powder.
However, I don't quite like this for the undereye to cover dark circles. I think this concealer works better just to brighten up your undereye. Personally, I use it on my whole face with just 6 strokes, then blend with a beauty blender. It stays on really nice for the whole day on me and looks like my skin but better. Not overwhelming at all.
One downside of this product is that it oxidizes a lot of a few people. Oh! Also, I run out of this pretty quickly, but this might be the reason because I use it on my whole face. But please, try it! You won't regret it. It's the best.
Eyeshadow
This is where it gets tough. One, it's because I barely wear eyeshadow. Two, I can't choose. I really like BLP's Eyeshadow Pen which released mid last year; it was an easy and convenient product which I find myself bringing around when I travel. It's smudgeproof and pigmented. But sometimes it can be too glittery for my liking.
Now, if you ask me… I've discovered a few that I can mention. One brand that I had the chance to try was Viseart. Viseart has been on my radar for a long long time and I've always wanted to get one of their $80 palettes but never did. $80 on an eyeshadow palette, a bit too much no?
So I bought the $38 Petit Pro Palette instead (mind you, mini they are) and… wow. The shadows really live up to their prices. First, they feel so different from other eyeshadow palettes that I own. They blend so beautiful and so effortlessly. I didn't spend 5 years blending all the shadows, it really reduces the time and they are easier to work with.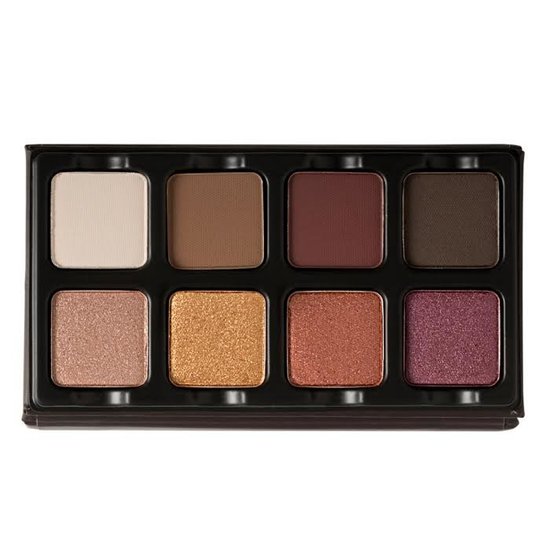 However, I don't quite like the color selection that was on that palette. I know you would think it is easy to work with, but the colors were a tad bit too purple-cranberry for me. But it isn't too big of a deal and I can still work with the more neutral colors. For a night out, I will be more keen to wear the more adventerous colors.
So those are my two picks. But of course, I came across a lot of exceptionally good eyeshadow palettes that are worth talking about, which I will discuss in a future post.
Finishing Spray
This has got to be dedicated to Studio Tropik. I can't imagine my makeup routine without this spray anymore! What is in this spray, really? Magic?
At first I really didn't have much expectations for it because well, I'm a brand snob and I don't quite trust local products. However, I was completely wrong. 2017 was the year that local products shook my makeup world and I really was surprised by a lot of them.
But this, Studio Tropik… instantly became everyone's favorite. I was lucky enough to be one of the first to receive it, so a lot of the reviews from other bloggers weren't up and it absolutely was love at first sight.
The ingredients are safe for sensitive skin and contains aloe vera and rosewater, which smells very calming. Calming ingredients are the best for the skin. Don't underestimate it!
Bronzer
This I have to give it to a local product again – the ESQA Goddess Cheek Palette. I held off buying this palette for the longest time because I didn't quite like their Liquid Lipstick. At 250k, I think it was rather high for a local product.
It wasn't until they had a promotion for customers buying through LINE that I snagged this with a discount of 20% off. It is quite a deal and it changed my life. All the colors presented in this palette were all usable and I like how they all looked on my skin. The most important part is… This doesn't break me out. The bronzer is a really nice gold-brown color which is suitable on Asian skin. It does not make me look dirty nor takes much effort to blend. Another local brand love!
Highlighter
My go-to highlighters this year is still my Charlotte Tilbury Bronze&Glow palette, Colourpop's Wisp and ESQA's Goddess Cheek Palette's highlighter.
All these highlighters have one thing in common – they are neutral colored with hints of a golden sheen. I realized that that works best on me – I don't quite like highlighters with a pink sheen or that holographic sheen that was a trend for a hot minute.
I play it safe with my highlighters because I don't want to look too made up/over the top.
Lipsticks/Lip Products
I know you probably think I would say the Fenty Gloss Bomb changed my life. But if you know me, you'd know I didn't like it.
One lipstick that I picked up this year which deserves a shoutout is SASC's Heroine. It's a color I never quite dare to buy but Harumi really seems to be able to pull it off. In order to support her, of course I bought it and it's a really nice pop of color to a dull outfit. The texture of the lippie itself is light yet very pigmented. It would be more of a liquid lipstick rather than the texture of Rollover Reaction/BLP which is more moussey.
The texture itself reminds me a lot of Jeffree Star's which I also had the chance of trying out this year. Both are standouts for me. Jeffree Star's colors weren't too appealing for me though so I didn't really like it. That aside, it's good.
Oh! Not to forget, Lancome's Matte Shaker was quite nice too. I quite like it and will probably repurchase more once I get the chance to. I still have A LOT of lipsticks to go through, hence I haven't been buying a lot.
Truth is I stopped buying lipsticks this year because I feel like it's the easiest to overhoard lipsticks. Once I counted my lipstick and had 90 over. They're cheap and small, which makes them easily misplaced and hence we think we don't have that much, but … in fact, we do.
Towards the end of the 2017, I have been choosing lip tints/faded lippie look instead of the opaque colors. I just think it suits my whole makeup look better and I don't look so… harsh. Because I tend to go for the younger/Japanese makeup look where everything is understated, wearing a liquid lipstick will just dramatize my whole look and that's not what I want. Hence, I am still using the same few lipsticks that I am comfortable with… A hell lot of liptints (from Japan!), moussey liquid lipsticks which makes blending easier and lip balm… all in orange/peachy hues.
Tools
One tool that found its place in my vanity is the EcoToolsSponge which launched while I was in the US, around the summer time. It is nice and has more texture to the Real Techniques sponge. When people say "I like so and so because it's more bouncy…" I don't quite get it. Does the bounciness of a sponge affect your likes and dislikes?
To me it's more of the density of the sponge and the texture of how it feels on the face. Because of those factors, I think the Ecotools Sponge was one of my favorites this year.
A local brand that has a beauty sponge that's to love is from Lolabeau.id on Instagram. Owned by a makeup artist/beauty enthusiast, Lolabeau has some of the better affordable tools in the market. Skip the brands full of marketing gimmicks and dive straight into the ones that offer you quality products at an affordable price. You wouldn't want to be overpaying for their branding too, right?
Lolabeau's sponge is denser than the Ecotools but that doesn't mean it does a lesser job. In fact, I like Lolabeau's sponges for when I want a heavier coverage. Because it is denser, it will absorb less product. All my makeup products seem to blend nicely with both sponges.
Brow Products
The only brow products I used this year which changed my life was the Dejavu eyebrow pencil from Japan. There was once I took preorders from Indonesia and one of my customers actually requested this Dejavu eyebrow pencil. Because I was curious, I bought one for myself because I just had to try out new products. I love the fact that Japanese has grey-toned eyebrow products compared to the ones in the U.S which are usually reddish-brown-toned.
Japanese beauty emphasizes on natural beauty and subtle, clean makeup; a makeup style I have adopted towards the end of the year. They don't go overboard with the eyeshadows, brows, or contours like the Americans. So my hands down favorite product is definitely the Dejavu Eyebrow pencil topped with Benefit's Ready Set Brow.
Blush
For blush, this year I tried a couple. A few of my favorites has got to be from Charlotte Tilbury, Colourpop and Glossier.
Let's start with my most frequently used – Glossier's Cloud Paint. This launched in the summer time from what I remember. Perfect timing, considering it was summer and everyone just wanted something really easy to apply on the cheeks that will last the whole day. Glossier's Cloud Paint in Dusk is my favorite and has been a staple for many months now. It is a thick pigmented cream that I spread on the apples of my cheeks to give that flush of color.
The reason I chose dusk is because it is the color of my natural flush. I love that muted peach with a hint of mauve as it does not overwhelm my cheeks as oppose to if I chose a pink color. It translates on my skin as a nice blush which lasts throughout the day. For a more lasting effect, I usually layer a powder blush when it is set. Really beautiful and worth a shot.
Colourpop's blushes are also worth a try. They're all only $6 (seriously, Colourpop, how do you do it?) and they are so pretty that one is seriously not enough. My favorite is Between the Sheets and Drop of A Hat. One of my favorite personalities to follow on Instagram is Sharon from Colourpop and she really does make me want to buy everything that she has on her face. She's also always the first one to drop news on latest releases and arrivals so YAY! She had Drop of A Hat on her cheeks once and I knew I had to get it. It looks just simply amazing on her medium tanned Asian skintone.
Another mention would be Charlotte Tilbury. I am no longer buying makeup form other brands simply because Chanel, Dior, etc have not exceeded my expectations. Perhaps one day when they've already formulated the perfect blush/foundation/etc, only then I'll start buying from them again. For the longest time, I've given them chances after chances but other brands in the market seem to be better at producing higher quality products and not just packaging.
I love Charlotte Tilbury blushes. They are really subtle and natural, not TOO highly pigmented which is the best in my opinion because sometimes when blushes are too pigmented, they can be harder to work with.
---
Honorable mentions :
I would like to feature two more products that I've tried and love but it's just that I don't have them on quite as often as I'd like to because it's for a special occasion kinda thing.
For instance, Stila's Magnificent Metals Liquid Eyeshadow is amazing. Truly, if I can wear glitter on a daily basis, I will. Then I can fulfill my dream of being Tinkerbelle.
The Stila Magnificent Metals Liquid Eyeshadow was really lifechanging. I remember one summer night as I was going out, I decided to apply some to my lids and realized that it wasn't as coarse as I expected it to be. In fact, the glitters did not even irritate my eyes and weren't a bitch to remove. I didn't feel any of them landing inside my eyes and really, it was a real pleasure to have them on. So that's amazing.
Another product worth mentioning is the Ponds BB Powder. It gained popularity after some local beauty blogger raved about it. The retail price of it in Thailand is about 12k and people has been selling them for up to 45k. Because of this, I picked a bunch up the last time I was there and man, were they easy to sell.
I tried it once but it really wasn't for me. Don't get me wrong, it looks incredible. Your pores are filled and you stay flawless and not oily after a long day. But my skin hates it. Loathe, even. I started getting zits at really random places so I knew this product is a no-no forever for me.
The majority loves it and it works on them so perhaps it's worth trying too.
---
So really, that's it for my Best of Beauty! I really hope it isn't too longwinded and I'm incredibly sorry for the delay but I hope it's worth it!!!